Current Projects
Earthquake History and Records of Locking
Collaborators: Rob Govers (Utrecht University), Mario D'Acquisto (UU)
The inter-seismic slip deficit accumulation rate on the subduction plate interface due to frictional locking is a key parameter in estimating the hazard posed by large magnitude megathrust earthquakes. Geodetic observations of surface motions in between large events are typically used to estimate the slip deficit accumulation rate; however, these datasets also record other deformation processes, such as apparent partial coupling, afterslip, and viscous relaxation. The surface motions produced by these processes overlap with the signal produced by locked asperities and may therefore bias interpretations of the slip deficit on the plate interface. We already demonstrated in a previous modeling study how partial slip deficit accumulates in the regions between fully locked asperities. Next, we want to use 3D geodynamic models to quantify how motions associated with post-seismic afterslip and viscous relaxation affect the ability to resolve this distribution of (partial) coupling on the megathrust.
We find that earthquakes under a threshold magnitude (Mw ~6.5-7.0), produce essentially negligible post-seismic surface displacements compared to the locking signal. As the magnitude of the event increases, its post-seismic effects overprint the coupling signal over a larger area and for a longer time. We use the central Chile subduction zone (which includes the 2010 Mw 8.8 Maule and 2015 Mw 8.3 Illapel events) as a case study, modeling inter-seismic loading as well as the co- and post-seismic effects of earthquakes dating back to the 19th century. Irrespective of magnitude, no event prior to 1900 has an effect on modern surface observations, whereas great (Mw 8.0+) earthquakes in the past ~50 years are still associated with reduced landward velocities relative to the full locking velocity. Near the rupture zones of the 2010 Maule and 2015 Illapel earthquakes, post-seismic motion currently produces oceanward surface velocities, which may not reflect the locking signal for several decades (Herman et al., in preparation).
Past Projects
Seismotectonics of Thailand and Vicinity
Collaborators: Kevin Furlong (Penn State University), Passakorn Pananont (Kasetsart University), Beth Meyers (PSU), Patinya Pornsopin (KU, Thai Meteorological Department)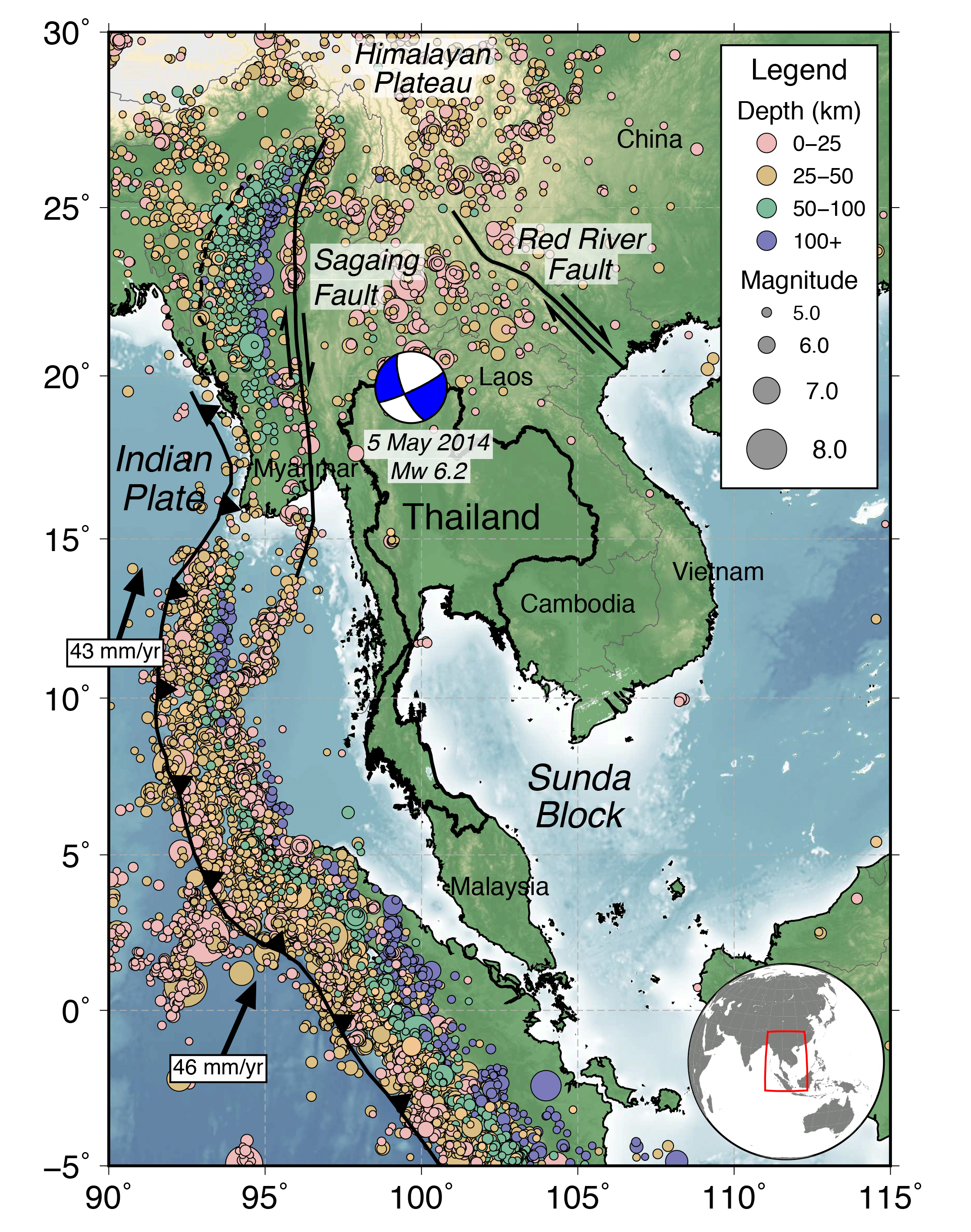 Southeast Asia lies between two distinctive convergent plate boundaries: the Indonesian subduction zone to the south and the Himalayan continental collision zone to the northwest. Hazards posed by earthquakes occurring along these plate boundaries pose a major risk to countries in Southeast Asia, including Thailand. In addition, there are several active faults within Thailand itself, which have either had significant historical earthquakes or show geological evidence of seismic activity. I collaborate with colleagues at Kasetsart University in Bangkok to observe and interpret patterns of recent earthquakes in the region (Pananont et al., 2014).
We are now beginning to develop numerical models of the geodynamic processes responsible for earthquakes throughout Southeast Asia (such as the preliminary models published in Meyers et al., 2018). Through these studies, we will answer such questions as:
What is the role of the Sumatra-Andaman subduction zone in driving deformation throughout the rest of Southeast Asia?
How do major fault structures partition the surface motions and the corresponding stresses?
What is the relative importance of plate interactions and forces associated with geological heterogeneity in generating the stress field throughout the region?
Answering these questions will lead to a better understanding of the possible locations, styles, and magnitudes of earthquakes (and associated hazards) that can be expected in the region.
Filling Gaps - The 2014 Iquique and 2015 Illapel Earthquakes
Collaborators: Kevin Furlong (Penn State University), Gavin Hayes (USGS National Earthquake Information Center), Harley Benz (NEIC), William Yeck (NEIC), Jennifer Nealy (NEIC), William Barnhart (University of Iowa)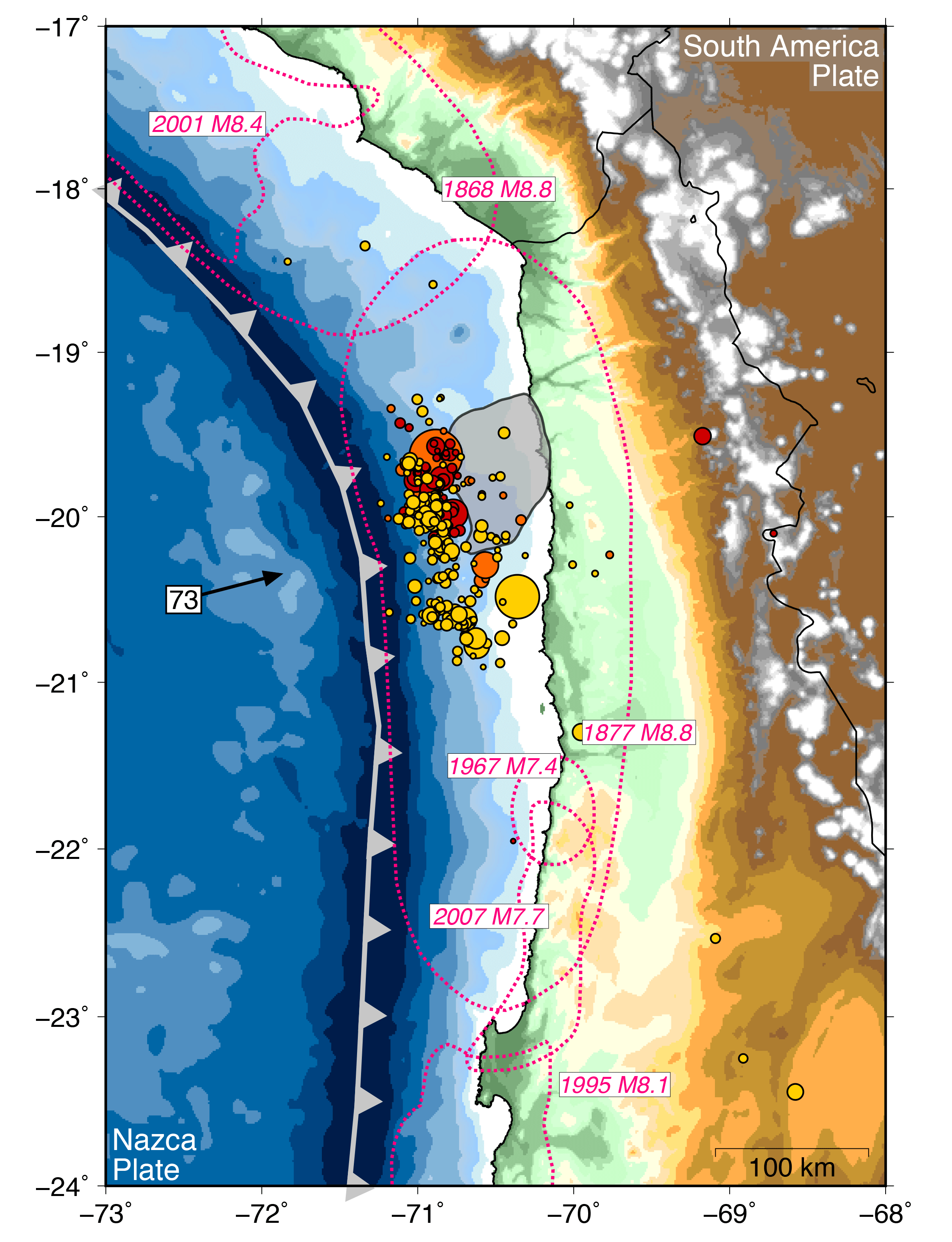 The oceanic Nazca plate descends eastward under South America at 70 mm/yr along the subduction trench that lies parallel to the coast of Chile. This subduction zone has a long history of hosting large earthquakes that produce severe shaking and extensive tsunamis. Some parts of the boundary last experienced a great (magnitude 8 or larger) earthquake over a century ago. Enough time has passed that these "seismic gaps" represent a significant great earthquake and tsunami hazard. I studied two events that ruptured seismic gaps in the Chilean subduction zone in detail, examining the processes that led up to the mainshocks, the characteristics of mainshock slip and aftershock distributions, and the possibility for future earthquakes.
On April 1, 2014, a magnitude 8.2 megathrust earthquake occurred offshore of northern Chile, generating severe shaking and producing a 2 meter tsunami in the Port of Iquique. This earthquake was preceded by four magnitude 6.0 and larger foreshocks in the two weeks before the big one. Should we have seen it coming? I used a technique called Coulomb stress change analysis to determine that these events may have sequentially triggered each other and led to the mainshock. I also carefully examined records of slow ground motion in Chile before the earthquake, as measured by high-precision GPS instruments. The GPS data suggest that there was other slip on the plate boundary during the foreshock sequence that did not produce large earthquakes, but may have aided in triggering the mainshock (Herman et al., 2016).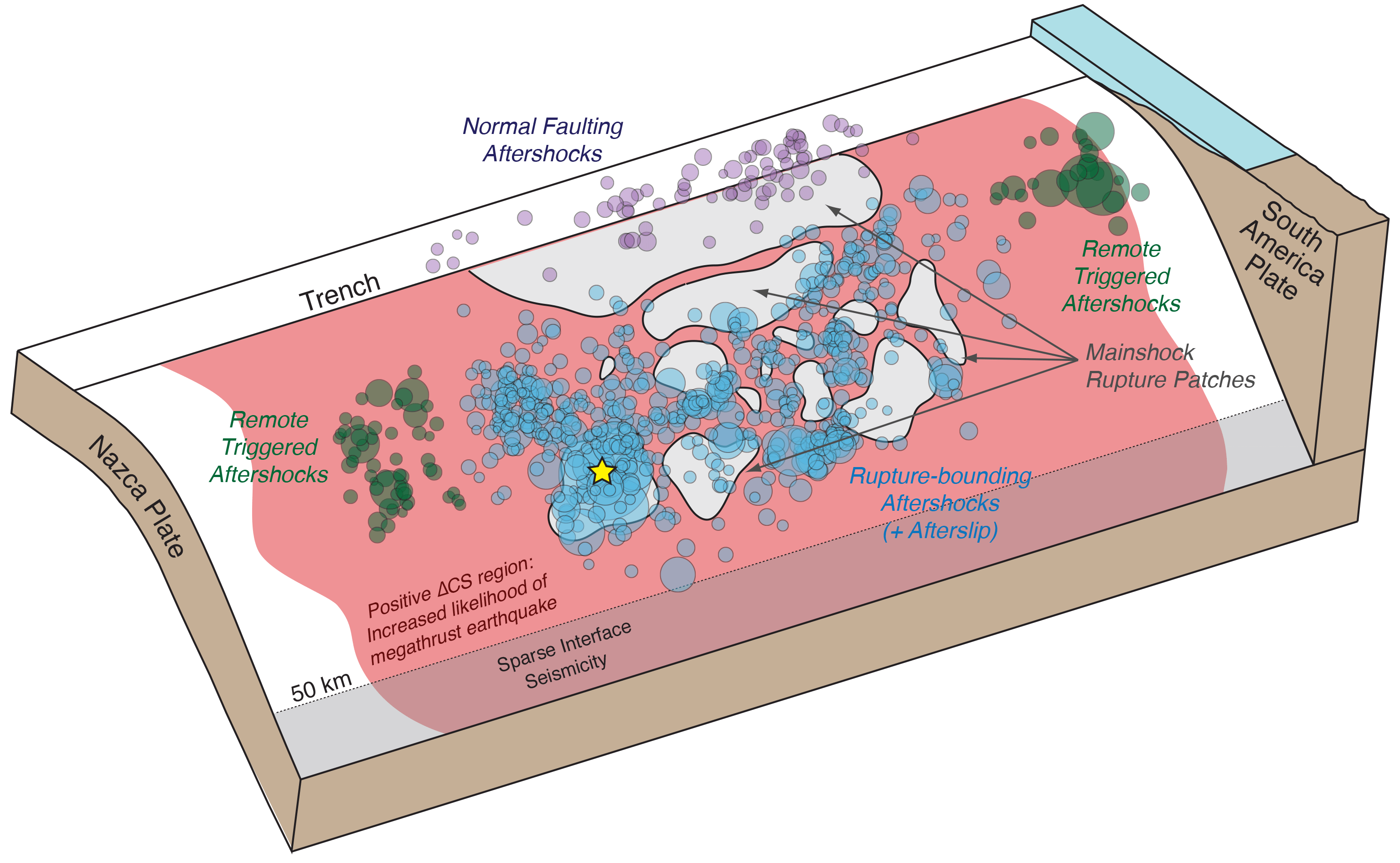 The 2015 Mw 8.3 Illapel, Chile, earthquake occurred in another seismic gap in the Chilean subduction zone. The ability to record and describe earthquake locations and sizes has improved by a huge amount over the past decade. For this event, I led a collaborative effort with scientists at the USGS and University of Iowa to combine and integrate results from different types of observations and improve our understanding more than the individual analytical techniques. The details of co-seismic slip during the earthquake, careful and precise aftershock locations, and physical models of the deformation in the subduction system suggest that the most vigorous aftershock activity occurs near the edges of the rupture zone and decays relatively quickly. The location and distribution of these aftershocks are highly sensitive to the location and magnitude of slip. In contrast, triggered events continue to occur farther from the rupture zone over a much longer time period. These events include both aftershocks on the interface, as well as other events, such as outer rise aftershocks occurring primarily next to areas where slip came closest to the trench (Herman et al., 2017).
Are Earthquakes Different Far From Plate Boundaries? The 2010-2016 Canterbury Earthquake Sequence
Collaborators: Kevin Furlong (Penn State University), Robert Herrmann (Saint Louis University), Harley Benz (USGS National Earthquake Information Center)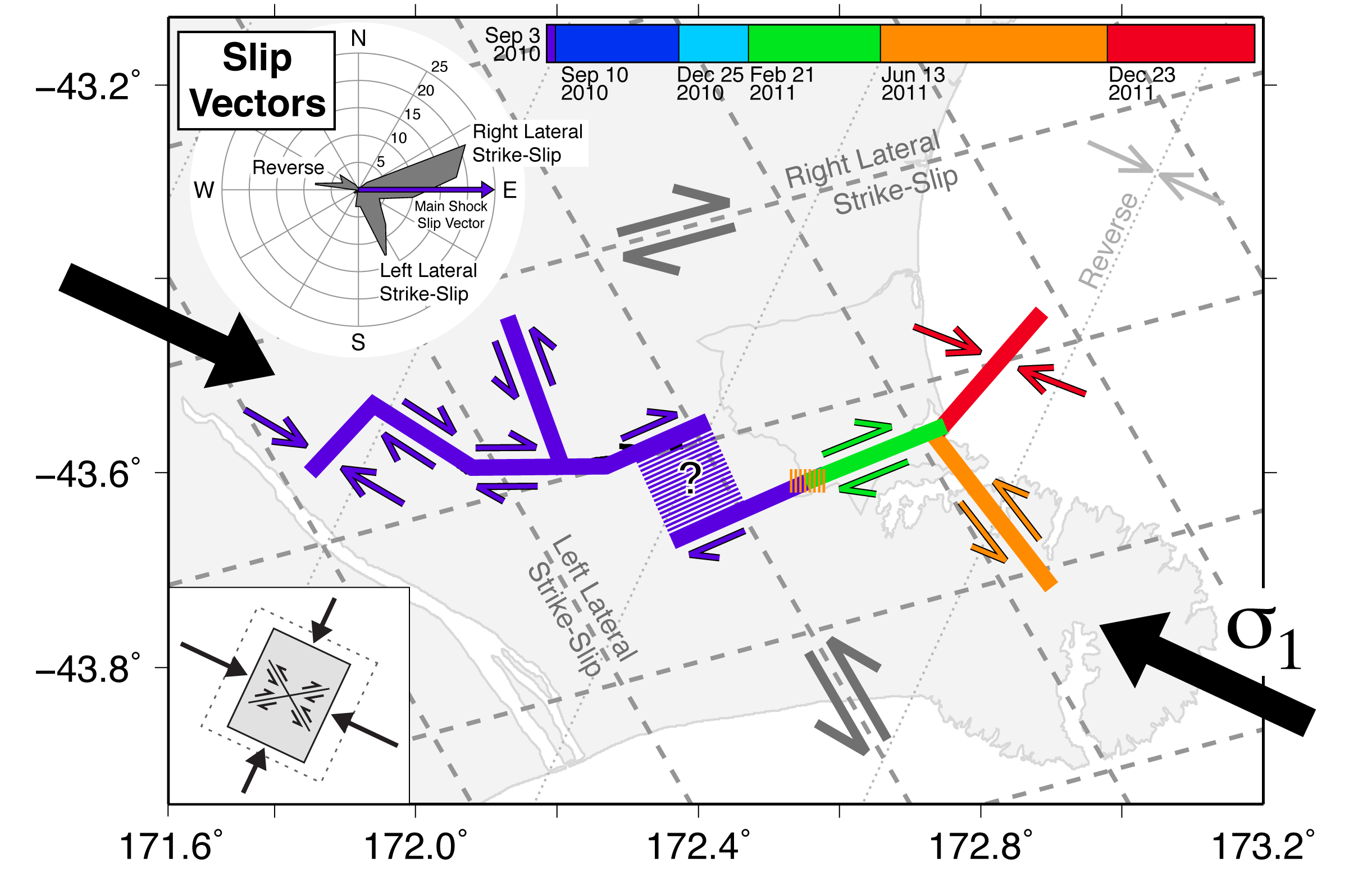 In September 2010, a magnitude 7.0 earthquake struck in the region west of Christchurch on the South Island of New Zealand. Although the South Island of New Zealand straddles the boundary between the Pacific and Australia plates, the earthquake source region is far from the plate boundary and has been notably devoid of seismicity over the last century. The September event was followed over the next two years by a sequence of over 10,000 aftershocks, including a deadly magnitude 6.1 earthquake beneath Christchurch in February 2011, another magnitude 5.8 event in June 2011, and a pair of magnitude 5.8 aftershocks in December 2011. An important question in the seismic hazard assessment of such low-seismicity areas is whether the behavior of this sequence can be understood through the same lens as more common plate boundary seismicity (like that of California, Turkey, or the Alpine Fault of New Zealand). To address this issue, I performed different types of seismological analyses on 150 of the largest earthquakes in the sequence to figure out how the faults slipped from the records of shaking. Perhaps our most important finding is that these earthquakes relieved stresses locally, but the broader region of eastern South Island still remains in the same state of stress that is responsible for these earthquakes (Herman et al., 2014).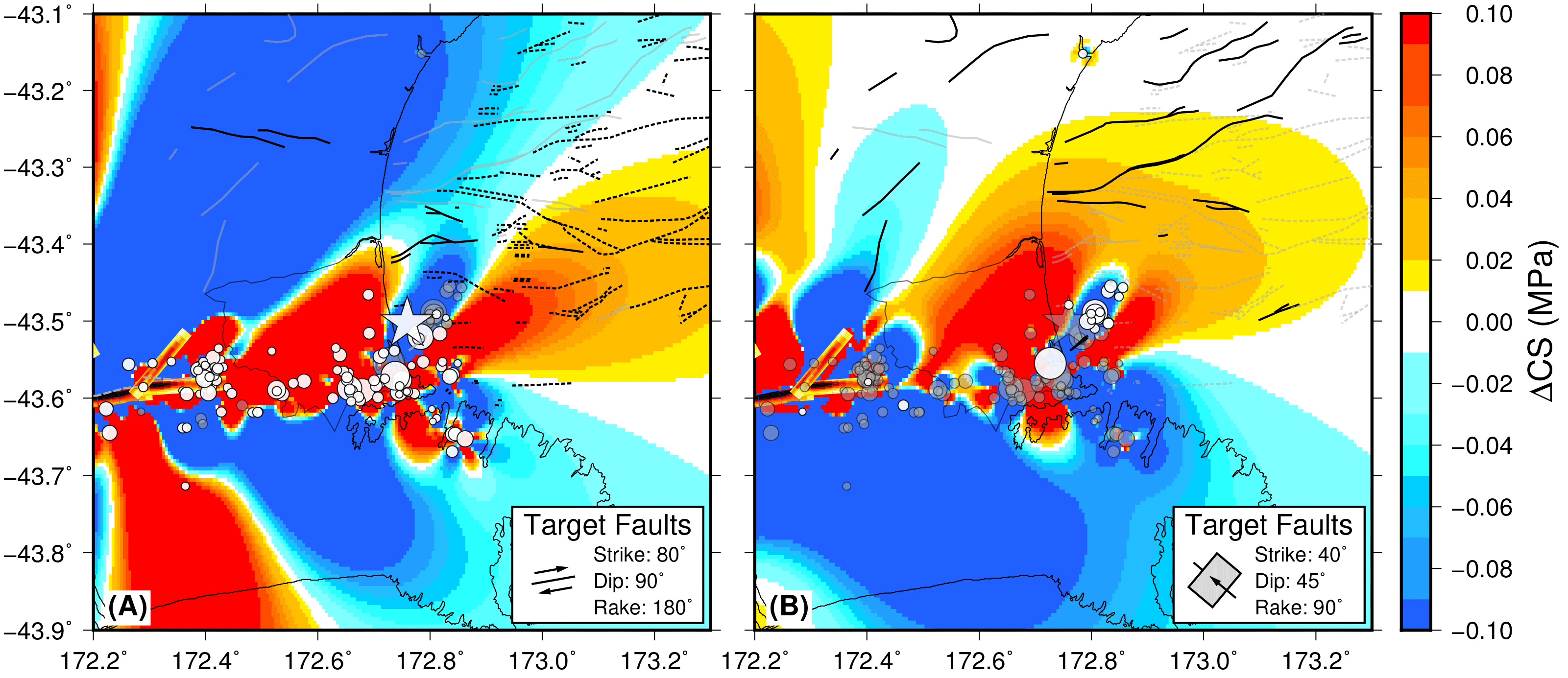 Seismicity in South Island, New Zealand, also continued to occur for a much longer time period than is typically expected. One common way to think about the duration of an aftershock sequence is by looking how aftershock frequency decreases over time, which is typically proportional to 1/time (this is called "Omori's Law"). But this "Law" is really an empirical relation; there are no physics dictating that the aftershock rate must decrease in this fashion. In reality, stress changes from earlier earthquakes might trigger subsequent large earthquakes long after the aftershocks from the initial event should have decayed according to Omori's Law. Then these subsequent earthquakes will have decaying aftershock sequences of their own. I explored the seismological details of another magnitude 5.7 earthquake in Christchurch, New Zealand, which occurred in 2016, years after the last major event from the earlier Canterbury earthquake sequence. I used this earthquake to bring attention to other nearby areas that may still represent a seismic hazard in the Christchurch region (Herman and Furlong, 2016).